This has been a specific focus of ours lately… striving to reduce chaos in our lives, being truly present in our interactions with others, and carving out time for rest.
The truth is, lately we haven't been doing such a good job of that. We run from one thing to the next, finding there is never an end in sight on our to-do list. Ever. And based on what I hear from others, that seems that's the general consensus. Remember the days of being bored? I don't even think that word has entered my vocabulary in at least 5 years. I believe that busy is not a state of being – it is a byproduct of what we are doing (usually to ourselves) – and yet on three separate occasions in the past few weeks, I found myself responding to the How are you doing? questions with "busy".
It took a few times saying the word before I caught on. I looked over at my husband, who has been working over-time for months and yet still manages to find time for everyone else, and suddenly felt this pit in my stomach. We were in desperate need for a day of rest.
The following weekend, we had a few commitments on the agenda for Saturday, but after that there was nothing so imperative that it couldn't wait for another day. I suggested that we give ourselves a time out – an entire day that we didn't need to worry about a thing. We'd stay in our PJ's, enjoy a Christmas movie marathon, and if we felt like it (and only if we felt like it) bake Christmas cookies. I don't know who was more excited – me, Kelly, or the dog!
So we wrote "nothing" in to our calendar.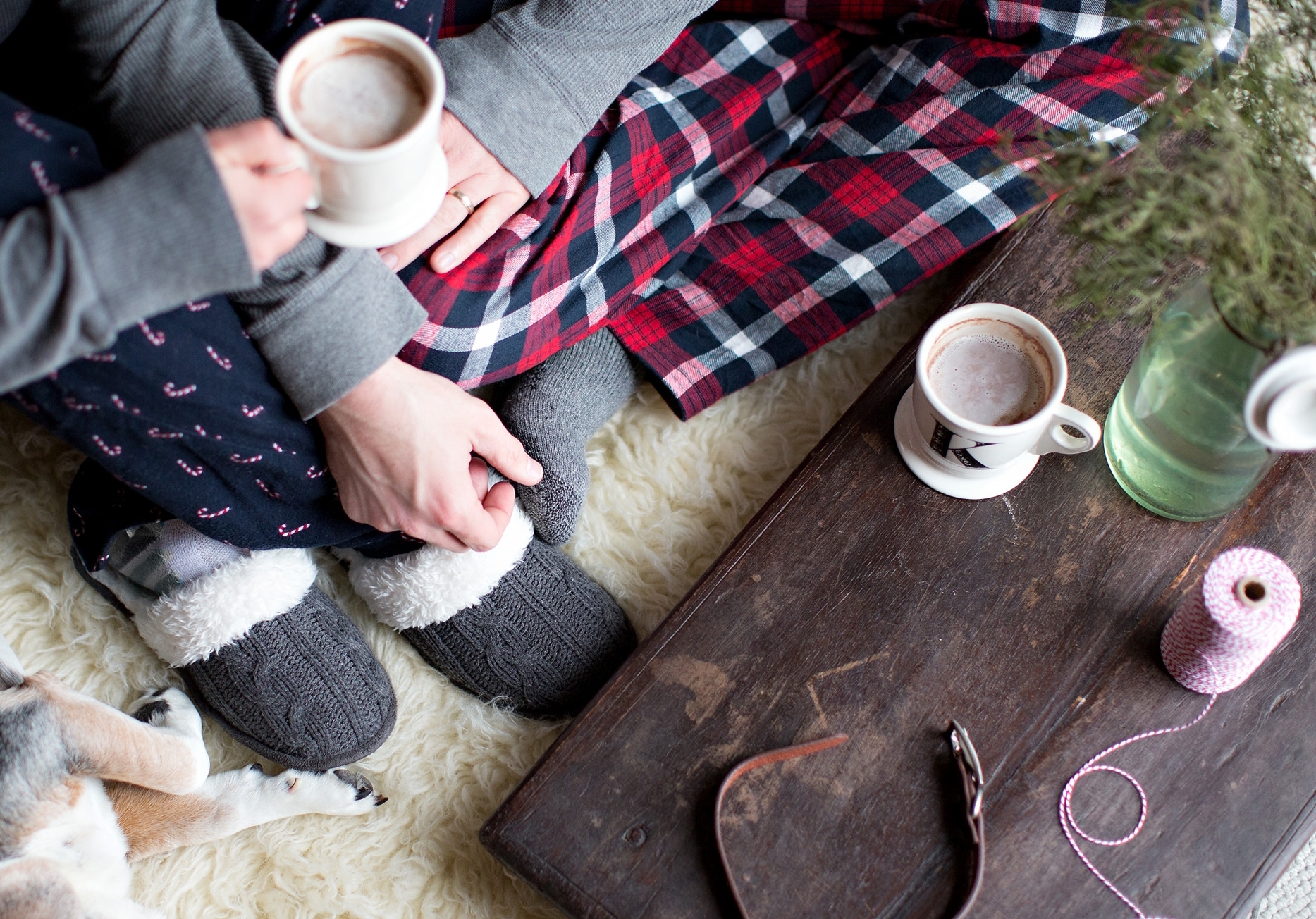 It was a day filled with meaningful conversation that wasn't halted by a ticking clock, pushing the couches together so that we could all three lounge and snuggle, two Christmas movies AND every single Christmas episode of The Office. Which by the way is a genius idea… who do I need to talk to about getting all the great sitcom holiday episodes in one place? We even baked those cookies after all, but opted for the simple un-rolled variety so that we could spend less time making and more time enjoying. It truly was a great day!
Yet as much I wish that I could wrap this up with a few comments about how wonderful it is to allow yourself to take a day of rest, tie it up with a pretty little bow, and get back to that never ending to-do list, that feels a little less than completely genuine. So here's the rest of the story…
Protecting the day for ourselves wasn't as easy as we'd hoped. I tend to struggle with shutting off, and have an inherent desire to people please. The lines get really fuzzy with a home-based business, and are even more so due to the natural cross-overs between what's work for us and what's simply who we are. The guilt that comes with making the decision to "do nothing" is almost unbearable. The silence becomes deafening as I feel called out for being lazy.
If it hadn't been for that cozy spot we'd prepared on the couch, and how adorable my husband looks when he's all comfy, I'm not sure I'd have followed through with our plan.
Thankfully, my husband was patient with the difficulties I was up against and was willing to speak truth in to our lives. He reminded me that God calls us to rest, and obedience in that is not only good for our health, it is good for our soul.
I'm learning that I haven't perfected this whole resting thing yet. It's going to take continued effort to find and maintain proper balance. But I believe it's worth it and have already discovered a few resources I'm excited to check out, including a list of questions to ask before adding anything to your schedule. Sign me up!
More on that to come…
Hugs,
-m