I remember it like it was yesterday. It was a bit of an extravagant purchase for such a young couple, but we had received a generous gift and wanted to spend it on something functional that would last for years. I eagerly hopped in the car, buckled my seat-belt, and snuggled up next to my handsome husband as we headed to the store to pick out our very own KitchenAid mixer.
We hadn't registered for a mixer when we got married. It just didn't seem necessary at the time, and besides, we hardly had the space to keep it in our apartment. Now that we were in a house though, it almost felt like a right of passage to have this tool at my disposal. Like I was somehow a more legitimate wife with a real stand mixer to my name.
Selecting the style of mixer that we wanted was easy – since it was a gift, we justified the splurge on a Professional 600 series. (I'll admit it may not have been necessary to go all out, and yet to this day I love using it!) But deciding on the color? Now that was a different story. They come in every color under the sun, and that particular decision seemed to make a statement about who I was as a person. Immediately, I was drawn to something bold. If I was going to spend this much money, it was going to be on something fun that I adored! My husband, however, had other plans.
He thought we should go home with the plain and boring. He also reminded me of a conversation I'd had with my mother about using caution when selecting appliances based on the current trends, as doing that inevitably dates your decision. Although visions of the 1970's green and mustard yellow – that to this day can be found lingering around the house I grew up in – gave me pause, I still didn't love the idea of humdrum at the time.
Turns out, the Mister and Mother Dear were both right. Fast forward a decade and I am so very grateful that this piece that has a forever-home on our counter is perfectly boring. As luck would have it, it's even gray! I was not so fortunate with many of the other purchasing decisions I made as a young adult. A good portion of the excess that we have eliminated over the past few years was an unfortunate result of my colorful past – a result of me being susceptible to the influence of current trends. (Not to mention a slight addiction to all things Anthropologie.) Of course it didn't help that I also lacked a good understanding of my own personal style.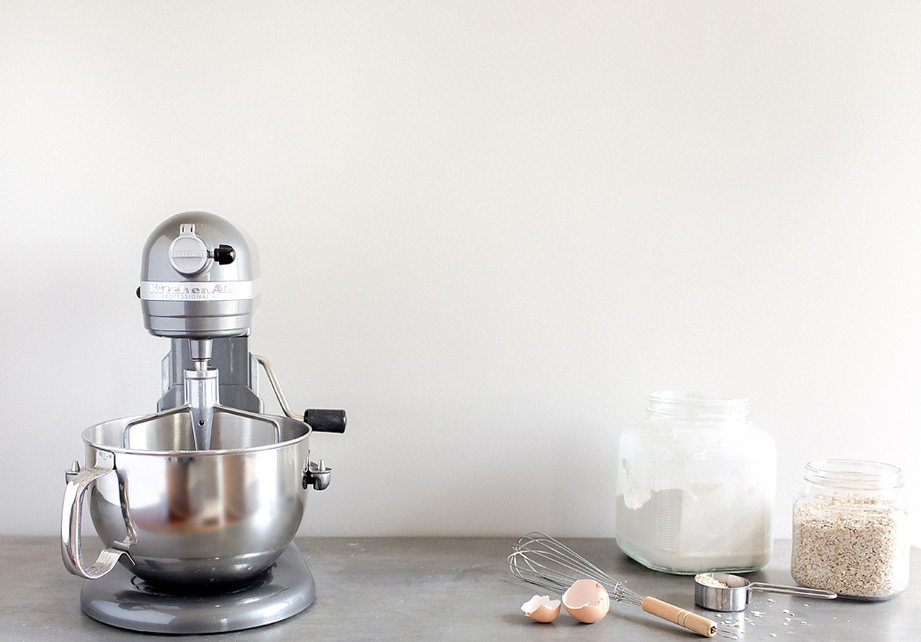 Here's what I've learned since then…
Just because I like it, doesn't mean it is me.
A few friends of ours have colorful mixers, utensils, or even furniture and I love the fun and vibrant feel in their homes. One thing to note, however, is that their personalities are also bold, exciting, and bubbly. They are fantastically stylish and know how to rock the latest trend.
Me? …sigh… Not so much. I've always had a hard time selecting clothing that stands out. Admittedly, I'm a little jealous of fashionable women and for a long time gave my best effort to be one of them. The truth is, that just isn't me. I prefer to wear black, gray, white, and the occasional navy blue. I'm much more comfortable splurging on a classic dress that I'll wear over and over than trying to find that color-of-the-season piece that fits just right and that I'll actually wear more than once.
You wouldn't believe how much stress has been taken out of shopping since learning to embrace my desire for simplicity.
Applying that same understanding to our kitchen…
Quality pieces that I reach for every time have replaced the latest impulse buy from Target (well, for the most part that is).
The master bed…
The five or six sets of sheets we had just because they were cute and cheap have all been traded in for one set of linen sheets that get better every time I wash them.
The master bath…
Two words… White. Towels. Ahhhh… towels hanging on the rack no longer feel like clutter!
I love all of the vibrant colors this world has to offer. But figuring out that just because I like it, doesn't mean it is me has made a huge difference in our home, in how I shop, and even in my work as an artist.
As for that mixer? Mark one down in the win column for my husband!
-m