Reece and I had been walking around the neighborhood, sitting at the park, doing anything we could think of to kill time while Kel showed the house to potential buyers.
An hour had gone by…
then two…
then we lost track of how long it had been.
I was getting a little sick of this song and dance, and found myself resenting my husband for ending up with the better assignment out of the two of us. Since Kel knew a lot more about the history of the house – and because he had done so much of the work to it – he was officially designated as house-shower. The dog and I? We got to make ourselves scarce. Sure, it sounds like a simple enough task, but not knowing what was going on inside those walls was killing me!
1644 had been on the market for 27 days, and we were just about to the end of that per-determined time-frame that we were comfortable with having not received an offer. Houses had been selling like hot-cakes, and since we felt pretty good about the way our house would show anyway, we decided to go ahead with listing it ourselves for a while before consulting with a realtor.
The past few weeks had been an emotional roller coaster. Well, I guess we'd been taking that ride for far longer than a few weeks, but this particular round had been a constant state of toggling between wishing it would end and not really being sure that we were ready for it to be over. Of course there were also those moments of questioning why in the world we ever thought this was a good idea to begin with. Nonetheless, committed we were.
It wasn't as though it felt like home anymore anyway. We had done everything we could do neutralize it so that someone else could imagine it as their own sanctuary. So I found myself taking that familiar journey around the neighborhood once again – dragging my feet along the same sidewalk, with the same side-kick anxiously sniffing every blade of grass as if it were for the first time – pleading with God that today would be the day.
There's something about a conversation with God that puts you in your place in your marriage as well. At that moment, it occurred to me that maybe I had underestimated how difficult it must be for my husband to sit in a room while strangers helped themselves to every last square inch of a home he had worked tirelessly on making ours for the past 10 years. Maybe this not knowing wasn't so bad after all.
Just about that time, my phone rang letting me know that Reece and I could go home.
The Mister is typically well thought out and intentional when he speaks, so it came as no surprise that he began to go down the list of who had all stopped by to look at the house that day. I normally enjoy a little detailed story telling (as anyone who is familiar with my writing can attest), but at this particular moment, I really just wanted to shake him and demand that he get to the point! I could just tell he was holding something back. As a man who has learned what his wife's "hurry up eyes" look like, he quickly caught on and proceeded to let me know that he had a good feeling about this one sweet couple who he had talked to extensively about the house.
As this man with whom I entrusted my whole life went on to explain the reasons he had such a good feeling, he mentioned that at some point in the conversation with Mr. and Mrs. Hopeful-Homeowners he had revealed the number that we were actually hoping to get in the end. I know what you're thinking, and believe me, I thought it too! But I really couldn't be upset because in the end, I knew where our faith rested and it wasn't with our ability as salesmen.
Back when Kel and I purchased our first vehicle together, we went to a dealer where they placed a sticker in the window and that was what you paid. The reason we intentionally sought out that car-buying experience is simple… we don't like the game. In fact, we rather detest the going back and forth, who's more desperate, are we willing to walk away conundrum. Sure, we've been known to come in under asking on occasion, but our ideal scenario is upfront and honest.
You can imagine how excited we were to put on our poker faces when it came time to sell our home. Something about those extra commas after a dollar sign really takes an already stressful situation up a few notches. Nonetheless, we figured that there was no way to avoid a good ole fashioned haggle long before that For Sale sign ever made it's way to our front yard.
As it turns out, you can actually be real and honest and sell a house.*
Within a couple of hours of taking down the open house sign, we received the call… our first official offer. There was (literally) about two seconds of testing one another, after which both parties cut the bull and began talking like real men. No gimmicks. No games. Just honesty. They knew what made sense for us, we knew what their top dollar was. And it worked.
We had them over one evening while we drew up the paper work and their kids played in the living room. I couldn't help but sing quiet songs of praise that 1644 would have kids sleeping across the hall from the master bedroom after all. It was a dream that we had longed for for years, and I was so thankful to know that this structure we were leaving behind would go on to fulfill that destiny.
A month of hoping and praying that this too-good-to-be-true deal would actually go through later, we officially handed over the keys and forever drove away from our first house together.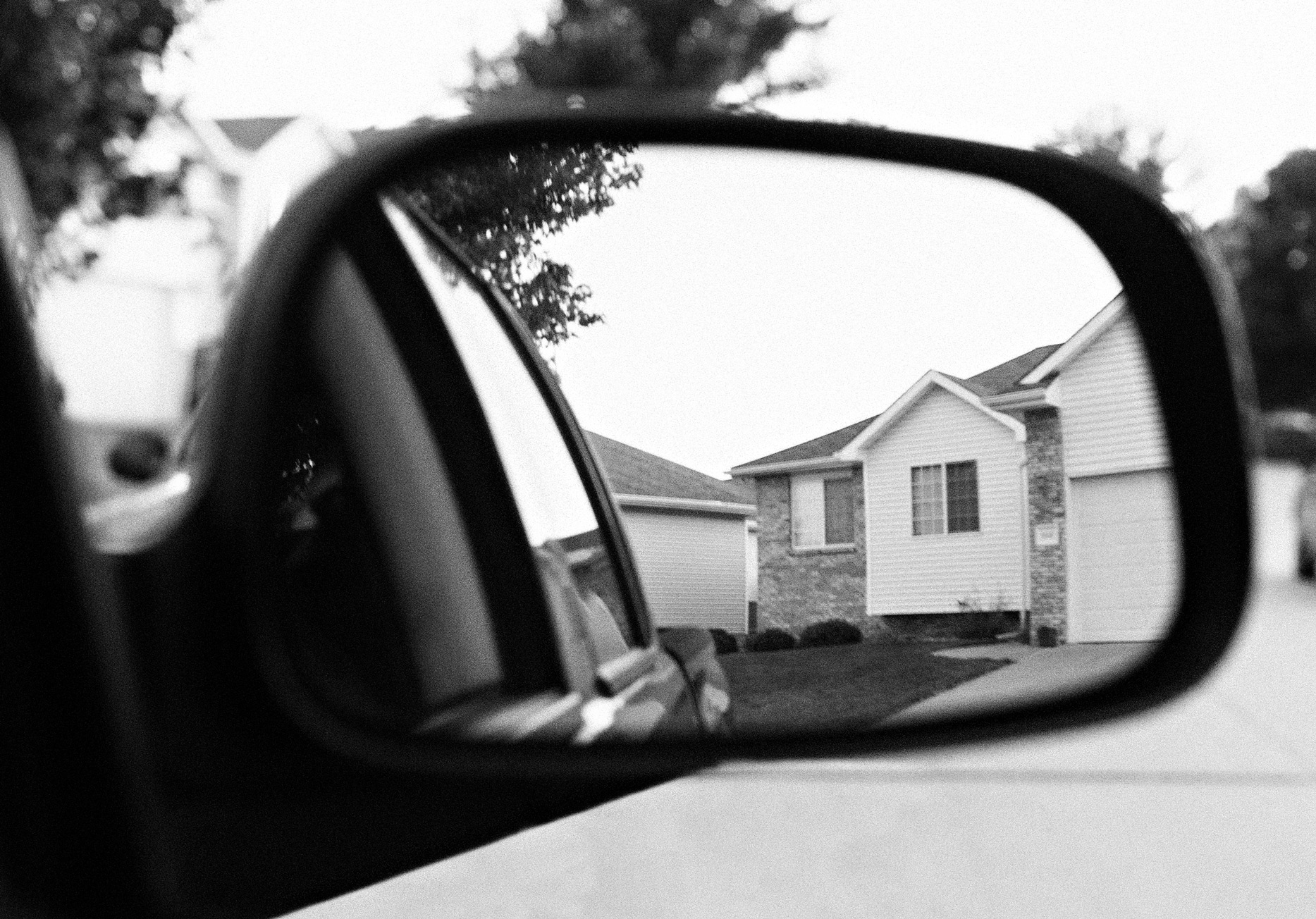 There were times when we wondered whether or not we could have gotten more out of that sale. Questions lingered about if another buyer would have been worth waiting for. It wasn't natural to conclude that we had done the right thing. And yet, there is still a sense of peace surrounding how all of it went down. Not only did it feel far better than we ever imagined it could to leave what was once our home in the hands of someone else, it's incredible to think that they just might have been equally blessed throughout the process.
Rather than allowing the insecurities of what could have been take over, we chose instead to focus on the truth. We asked ourselves, Are a few possible dollars worth fretting over? … The Lord gives and He takes away, and what we stand to gain is far more important than monetary profit.
*I don't know if I can confidently stand before you and advise that those who are planning to sell a home ought to take the same approach that we did. I'm not even certain that next time we would take that same route ourselves. What I can say is that for us, in that situation, it was such a relief to talk openly and honestly with this family. To willingly strip away greed and entitlement, allowing a transaction to be just that – all the while trusting that God was in control.
-m
PS. As professionals who offer a service that a fair amount of people assume they can do themselves, we understand that there is value in trusting the experts. We also understand that there are times when giving it your best effort just might be the most advantageous option. We are happy to talk with you on an individual basis about why we chose not to use a realtor for this particular sale. Just say the word, and we'll set up a Skype or Coffee date. ;)