My husband is an adventurous eater and will give just about anything a chance at least once. It's funny how opposite we are sometimes because I tend to be fairly finicky – especially with certain types of food. We do, however, share the desire to truly enjoy what we eat, and geek out just a little bit more when it's something we made ourselves.
It has been a goal of ours to experiment with new ingredients and flavors in our cooking. We have also been seeking out opportunities to reduce our intake of processed foods and unnecessary extras (calories, carbs, etc.) by incorporating healthy alternatives to some of the basic ingredients we typically use. Considering the importance we place on both flavor and texture, it has proven to be a challenge to find substitutions that are "sneaky" enough for our stamp of approval.
So I called on my beautiful sister, Melissa, for a little guidance. She is the perfect resource for healthy options, and I have always admired her ability to prepare well-rounded meals for her family. She suggested we try Spaghetti Squash Carbonara and even agreed to come over to help me prepare the meal.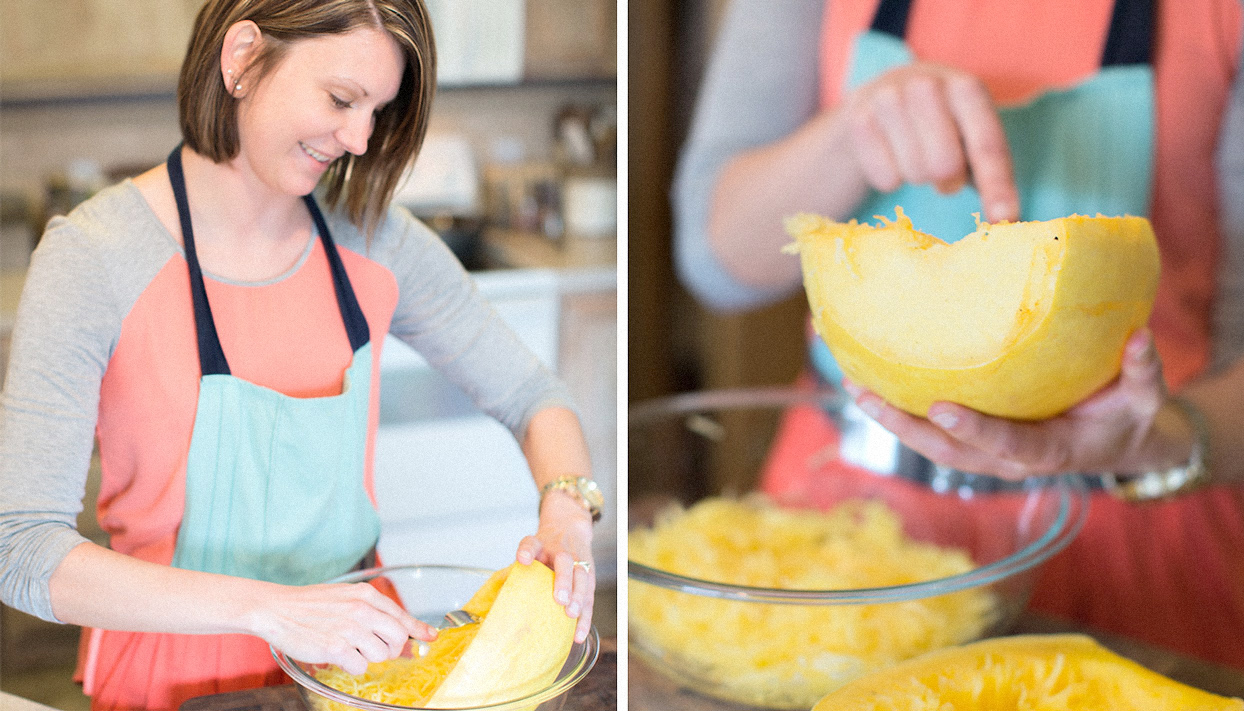 The recipe looked great, so Kel and I were optimistic, and yet we wondered how great this could really be. The thought that you can bake a squash and have it come out of the oven masquerading as spaghetti seems a little too good to be true. Besides, it would take a lot to live up to our pasta-loving expectations.
The results? We're sold! The Spaghetti Squash Carbonara turned out delicious and was even surprisingly filling. Be sure to note that it takes about an hour+ to prepare the squash in the oven, so it helps to plan for this meal ahead of time. Here's how we made it…
Spaghetti Squash Carbonara
(serves 4)
ingredients…
from the pantry:
(be sure you have these ingredients on hand before heading to the market)
salt & pepper
3 eggs (1 whole egg + 2 yolks)
2 cloves garlic
1/4 cup chicken broth
from the market:
1 large spaghetti squash (approx 2 lbs)
1/2 lb bacon
1 cup freshly grated Parmesan cheese
1-2 oz heavy cream
green onions
The "spaghetti":
Preheat oven to 375°.
Half the squash and remove seeds. (This isn't as easy as one might think – the squash is a little difficult to cut through.) Oh, and we also had to cut off the top and bottom of the squash so that it would fit.) Sprinkle the bottom of a large baking dish with salt and pepper. Place the squash flesh side down in the pan and add enough water to come up about 1/4-inch. Cover tightly with aluminum foil and place in the oven until the squash is fork tender, about 1 to 1 1/2 hours.
Allow to cool slightly before shredding with a fork. Transfer to a glass bowl and set aside.
(These instructions are based on instructions by
Emeril.
I have also seen that there are options for doing this step in the microwave.)
.  .  .
The sauce:
While the squash is cooking, you'll have plenty of time to prep the remaining ingredients… Cut 1/2 lb bacon into small strips, crosswise, mince 2 cloves of garlic, grate 1 cup of Parmesan, and chop green onions (about 2 should be enough).
We found it was best to wait until the squash was out of the oven and cooling before moving on with the next steps.
In a large saute pan, cook bacon over medium heat until crispy. Add garlic and saute until it becomes fragrant, about 1 minute. Add broth and cook until the liquid has evaporated.
Meanwhile, whisk together eggs (1 egg + 2 yolks), season with salt and pepper, add a little extra pepper, and combine with grated cheese. Add this mixture to the bacon in saute pan and continuously stir, being careful not to fry the eggs. Add just enough cream to thin sauce.
Toss with squash until heated through. Adjust seasoning if necessary, and serve immediately topped with green onion.
Enjoy!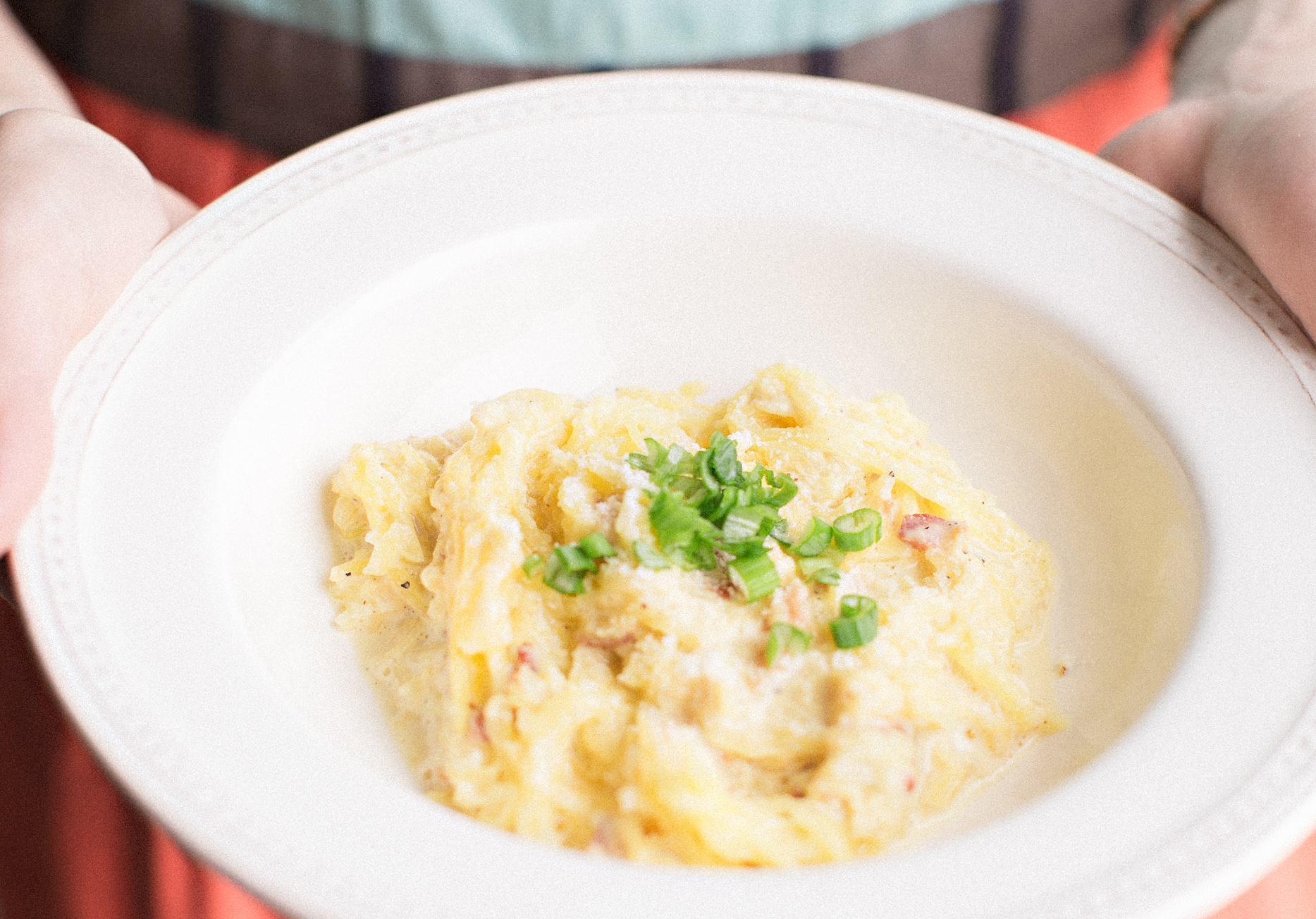 We will certainly make this recipe again, and are excited to try replacing spaghetti with squash in other dishes as well. Special thanks to my sister for her guidance and for bringing the family over for the afternoon. Sunday dinner is always better with loved ones gathered around the table.
-m