I love Christmas cards! For as long as I can remember, Mom has displayed her holiday greetings and it has always been fun to look through each and every one of them. Although all friendly mail is fun to receive, my favorites always include either a letter, a photo, or (ideally) both.
It wasn't long after Kelly and I got married that we joined the Snail-Mail Greetings Club, and began writing year-end letters as well. As photographers, of course we can't not send a photo-card, so I also began designing our own cards around that same time.
After a few years, we began shaking things up a bit. It started in a year when we were crazy-busy with client orders and it was mere days before Christmas when I finally sat down to write our letter. It was not pre-meditated, but we fittingly ended up with a poem entitled, "Twas the Week of Christmas".
From there, we began developing a new concept each year that allows us to incorporate both a photo and a brief synopsis of our year. They are nothing like what we would create for clients, yet we truly enjoy the creative challenge. Besides, sometimes it's good to set aside our business hats and relish in the excuse to be a little silly.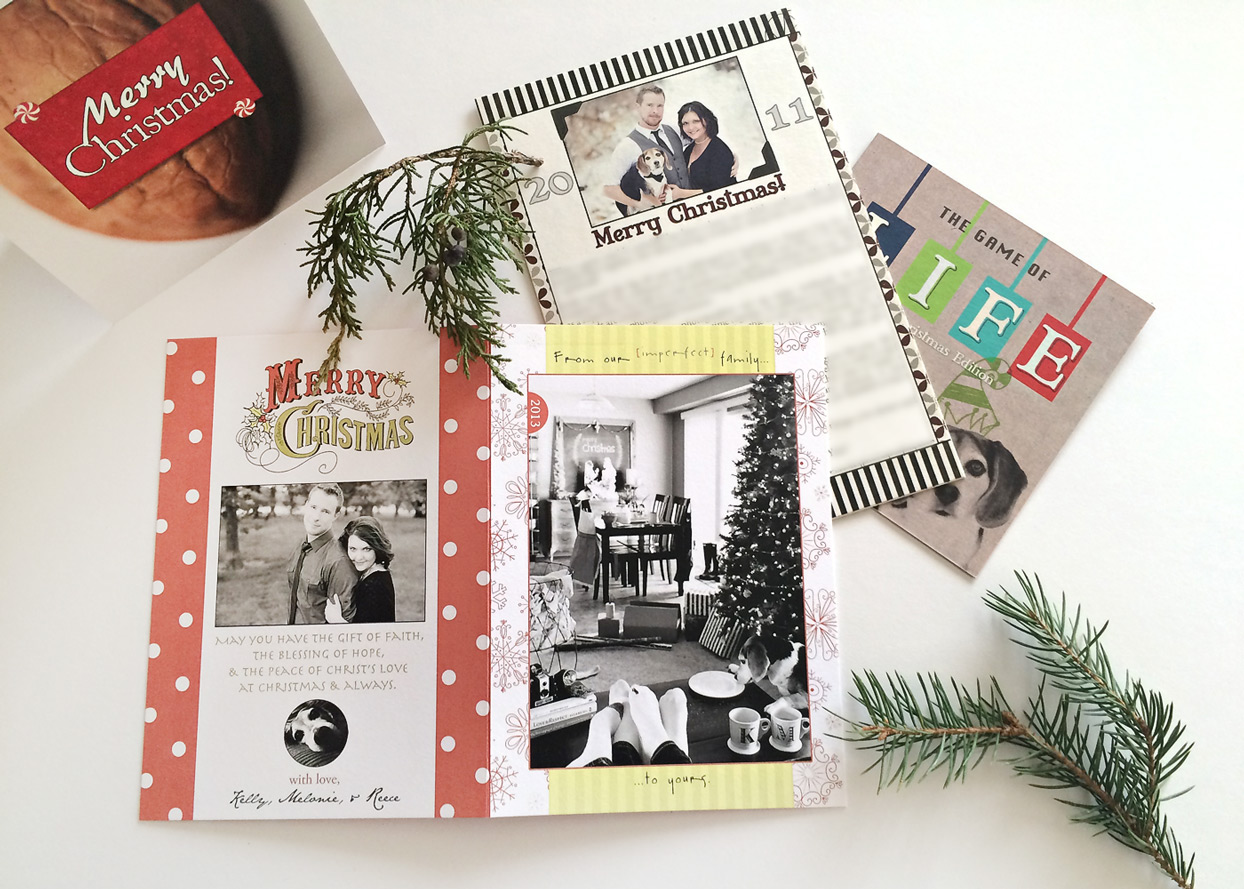 our year in a nutshell
2010 was the first year we went all out, and people probably thought we were nuts. (You see what I did there? ;D)
Kelly suggested that we go over the top with the cheese-factor so that no one would mistakenly think that this was the type of work we would actually do as photographers. From the Christmas tie he's wearing, to the poinsettia clipped to my Santa hat, we had a blast channeling our inner-dorks.
The best part was going through the check out lane with a single walnut from the bulk department. Yes, we hand-selected the best looking one we could find.
I still laugh – probably more than most – at this card.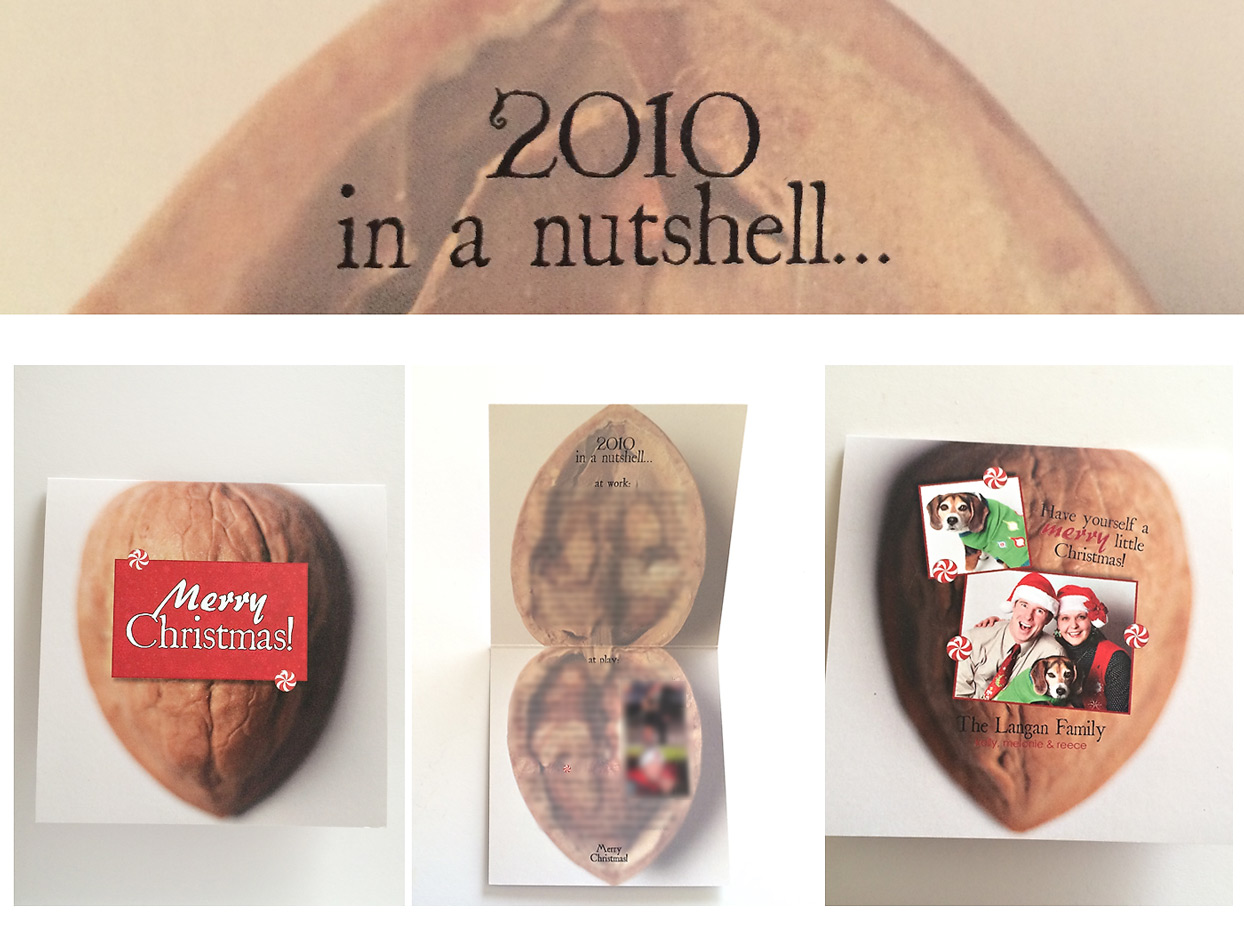 a christmas mad lib
The mad lib lives on as our favorite! It was A LOT of work though. Ensuring the boxes on the front lined up with the spaces inside took some careful designing and creative adjustments. It was also a labor of love. We hand-cut each of those blocks, and sent out roughly 40 cards.
Every time I look at it, I am reminded how blessed I am to have a husband who is willing to take on projects like this with me. He cut the majority of the cards, and only complained a little bit. (It doesn't hurt that he can easily be bribed with a delicious home-cooked meal.)
We also included the real version of the letter on the back for those who would want to know the rest of the story.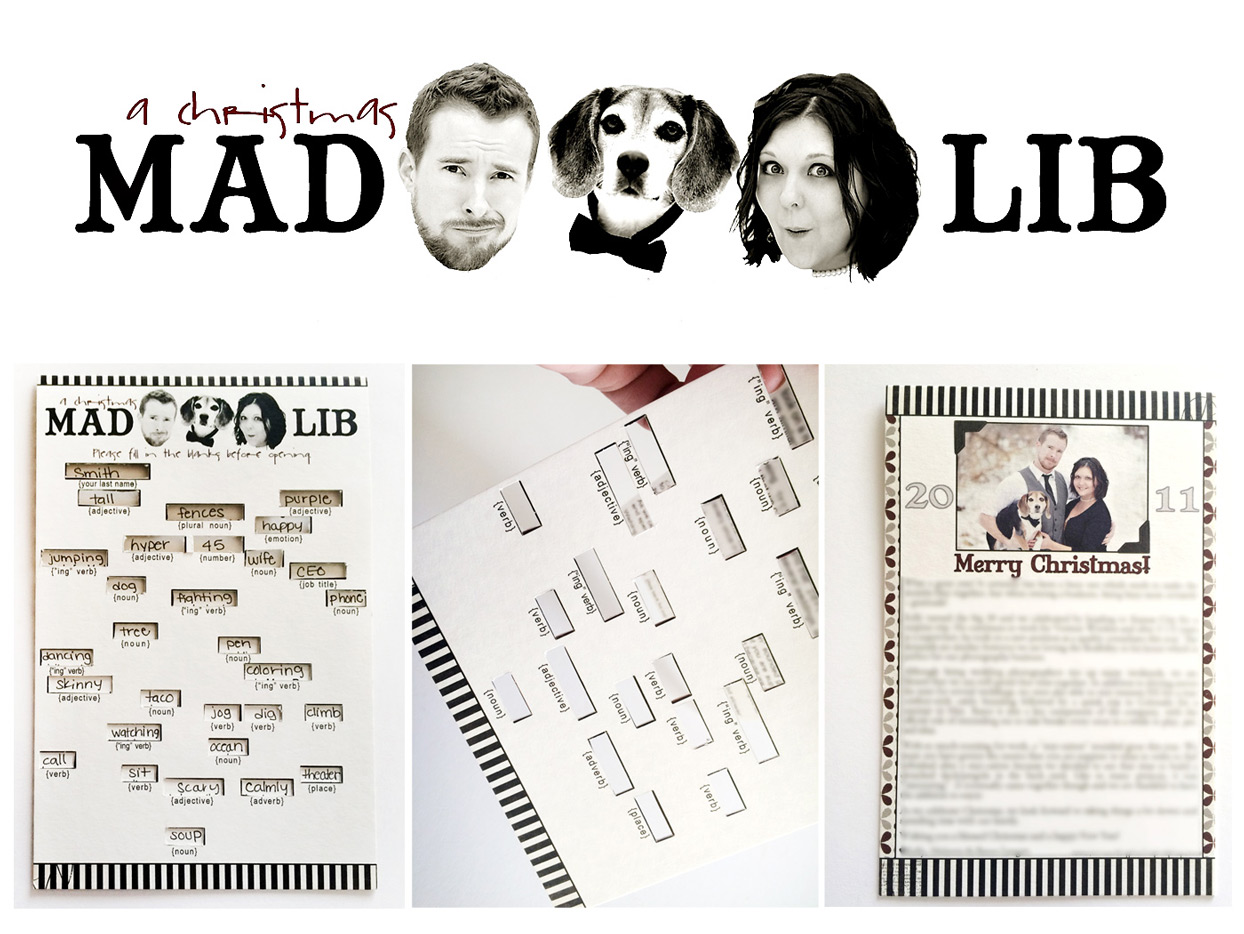 the game of life
We traveled quite a bit in 2012, and this card was perfect for sharing tidbits about those trips and other happenings in our life without the need to write tons. We included 12 spaces so that we could walk through a highlight of each month, and included a personal note as well.
The hand-drawn "LIFE" car and pegs with heads (that are suppose to look somewhat like us) and whimsical graphics were a fun challenge to create.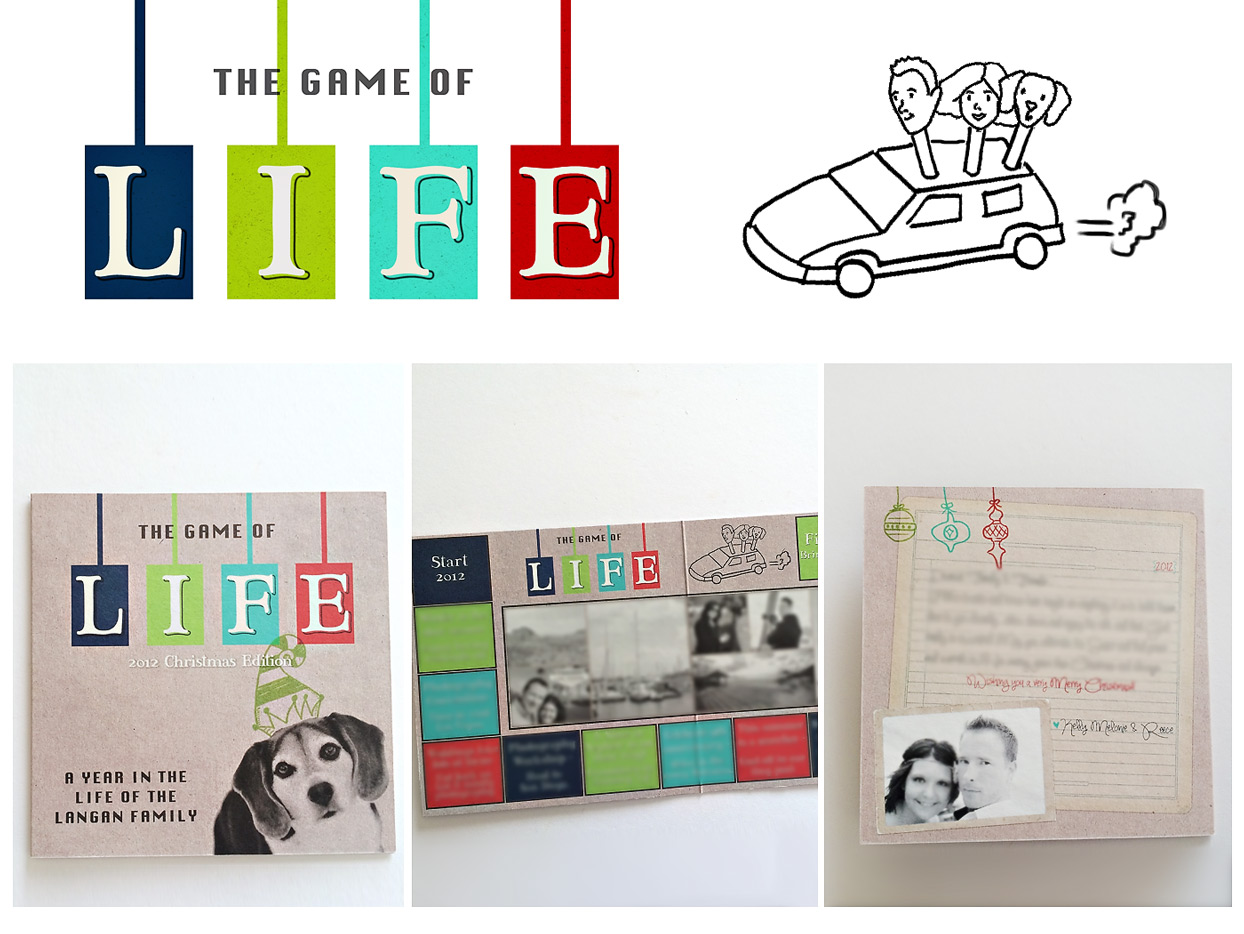 from our imperfect family to yours
This card is a bit more heartfelt than the previous few years. One major "theme" for us in 2013 was an awareness that we all face the temptation to compare our own out-takes in life to the highlights of others — a lot of times without even realizing that's what we are doing. That message touched us, it gave new purpose to our blog, and even contributed to changes in our business. It seemed only fitting to share that part of ourselves with our closest friends and family by incorporating it into our annual Christmas card.
It was a lot of fun creatively thinking through ways we could share a few "out-takes".  My favorite thing about this card is that it truly captures us and represents so much about that time in our lives.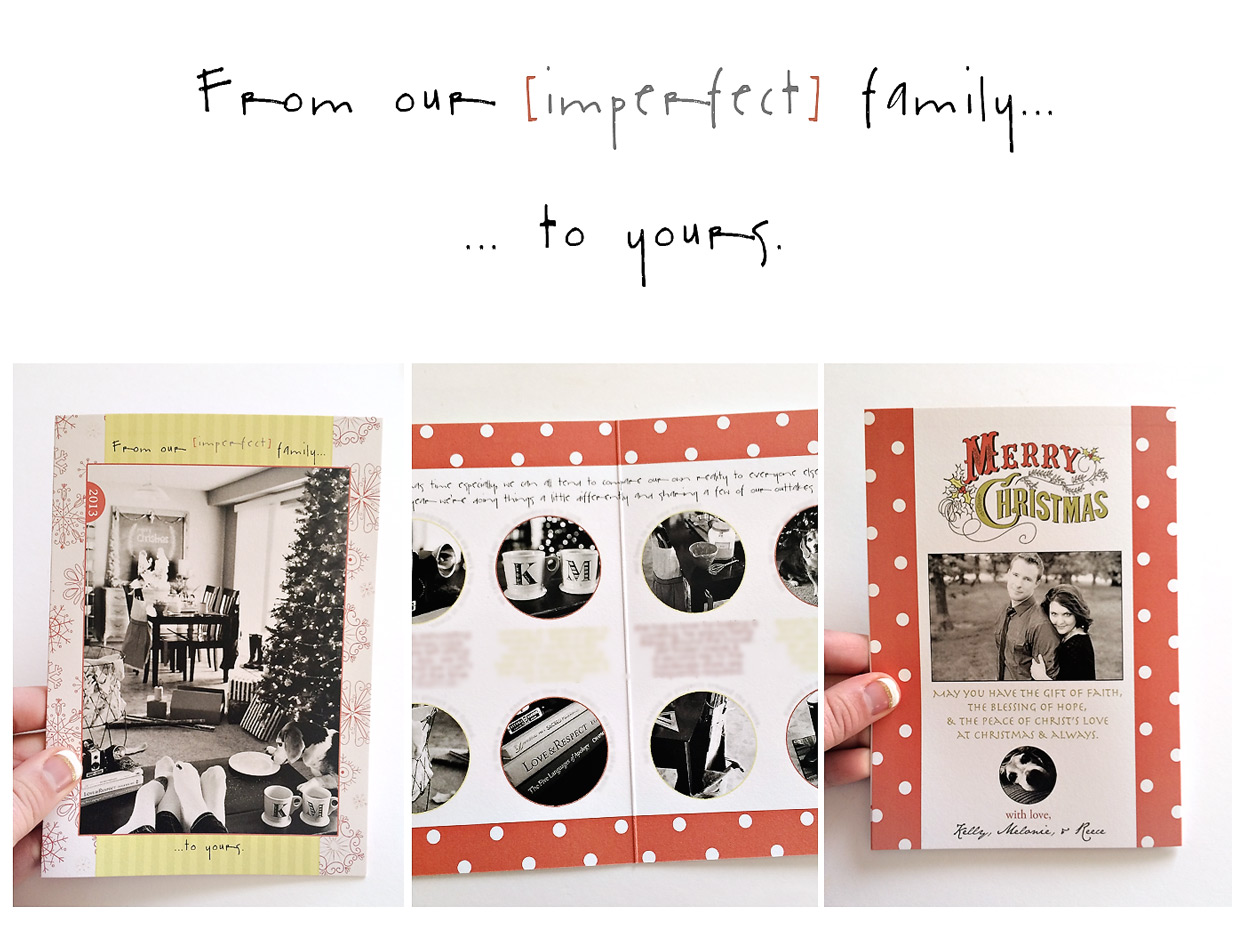 …
Nowadays it seems there is less of a demand for year-end updates since most folks are able to follow along with our daily lives, yet I still find it endearing to receive tangible greetings via the good ole USPS. Besides, our grandparents and a few friends have yet to join the social media world.
I've been tossing around a few ideas for this year's card, and it wasn't until last night that we finally settled on a concept – I think.  No matter how hard I try to plan ahead, it just doesn't seem to fall in to place until all of our clients' cards are complete and the "last-minute" juices kick in. How many of you creatives can relate?
On that note, I'm off to design my little heart out.
Cheers!
-m