I stood in front of my pristine, white fireplace – metal file in hand – and took a few deep breaths. Knowing there was no turning back from intentionally scratching the surface of our unblemished mantle, I wanted to be extra certain of myself before making the next move. Within moments, I was overcome with courage and quickly discovering that distressing the fireplace was not going to be as easy of a task as I'd expected. Just when regret started taking over, the Mister's reaction was all the reassurance I needed to know that it was going to be worth it.
Before phase one was even complete, we were also tackling phase two… replacing sheetrock with shiplap. Although today those horizontal lines likely bring to mind a beloved duo from Texas, we rest assured knowing shiplap has timeless appeal and will stand the test of time. Even so, I can't even begin to describe the anxiety that came over me as we prepared to punch through the wall! Fixing an existing problem is one thing, but tearing out a wall that was perfectly good? It's the sort of thing that reeks of Murphy's Law to me. Thankfully, God gave me a husband who not only turned out to be quite the handyman, but knows how to reassure his wife's hesitation to follow through with something that was her idea to begin with.
One of the things I love most about marriage is how our strengths complement one another. The exact differences that can tend to cause friction between husband and wife can also be beneficial diversity. Especially when it comes to problem solving together. Home improvement projects have been great investments in putting that concept in to practice. With mutual respect for one another and maintaining the understanding that while we can be particular, perfection is not our ultimate goal, the really cool outcome is time spent together that not only makes our home feel and function the way we want, but also serves as a visual reminder of a task we accomplished as a team.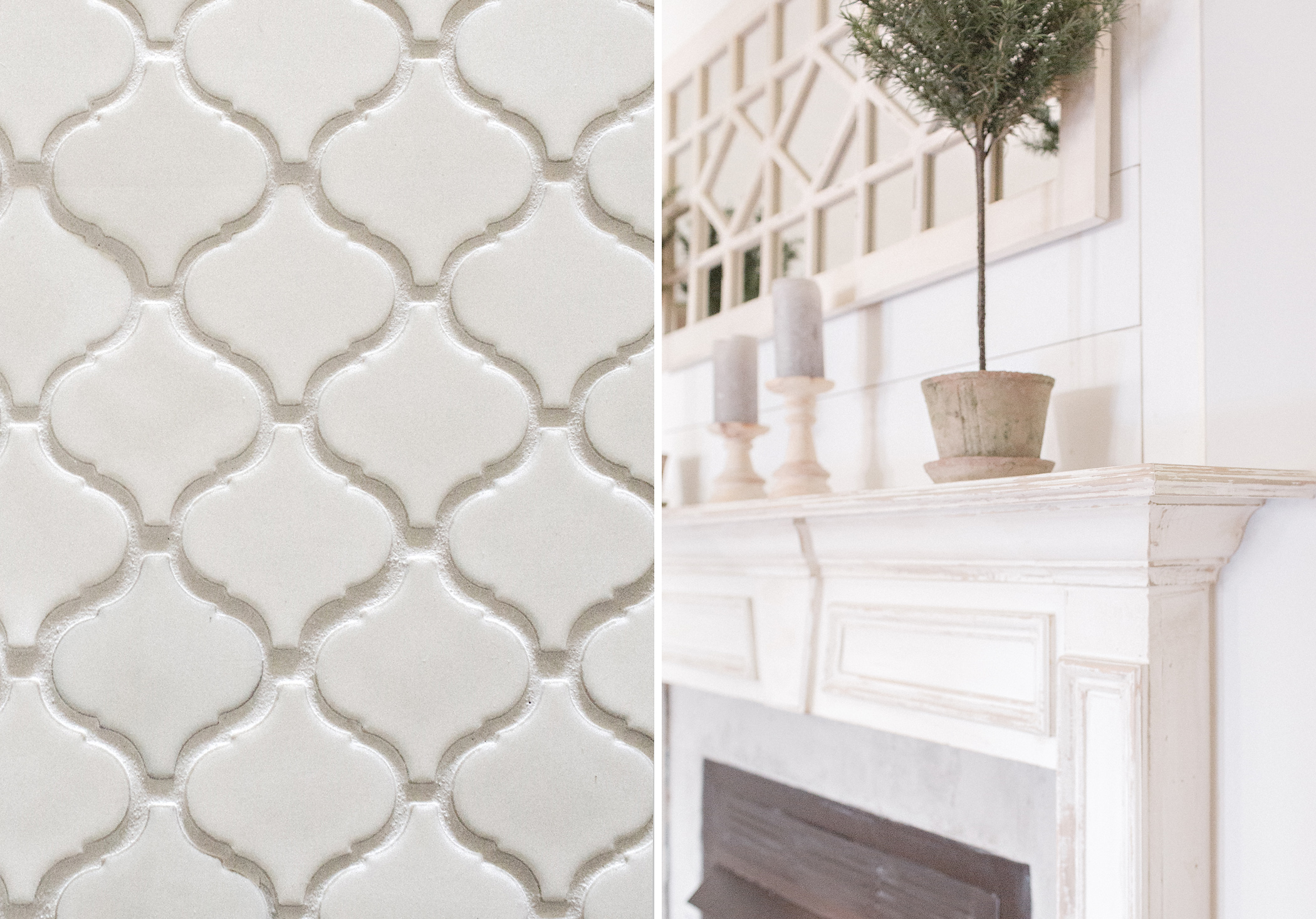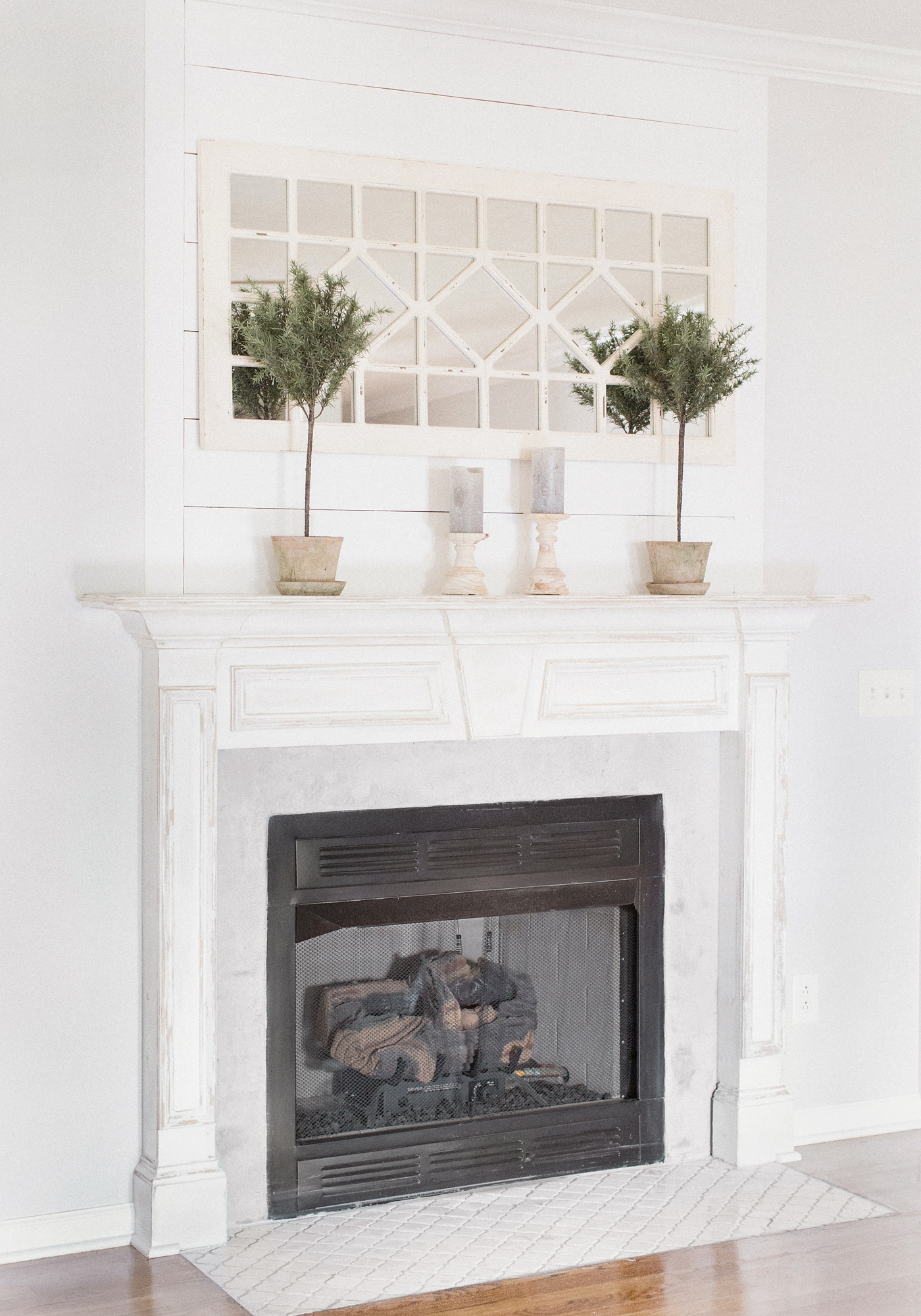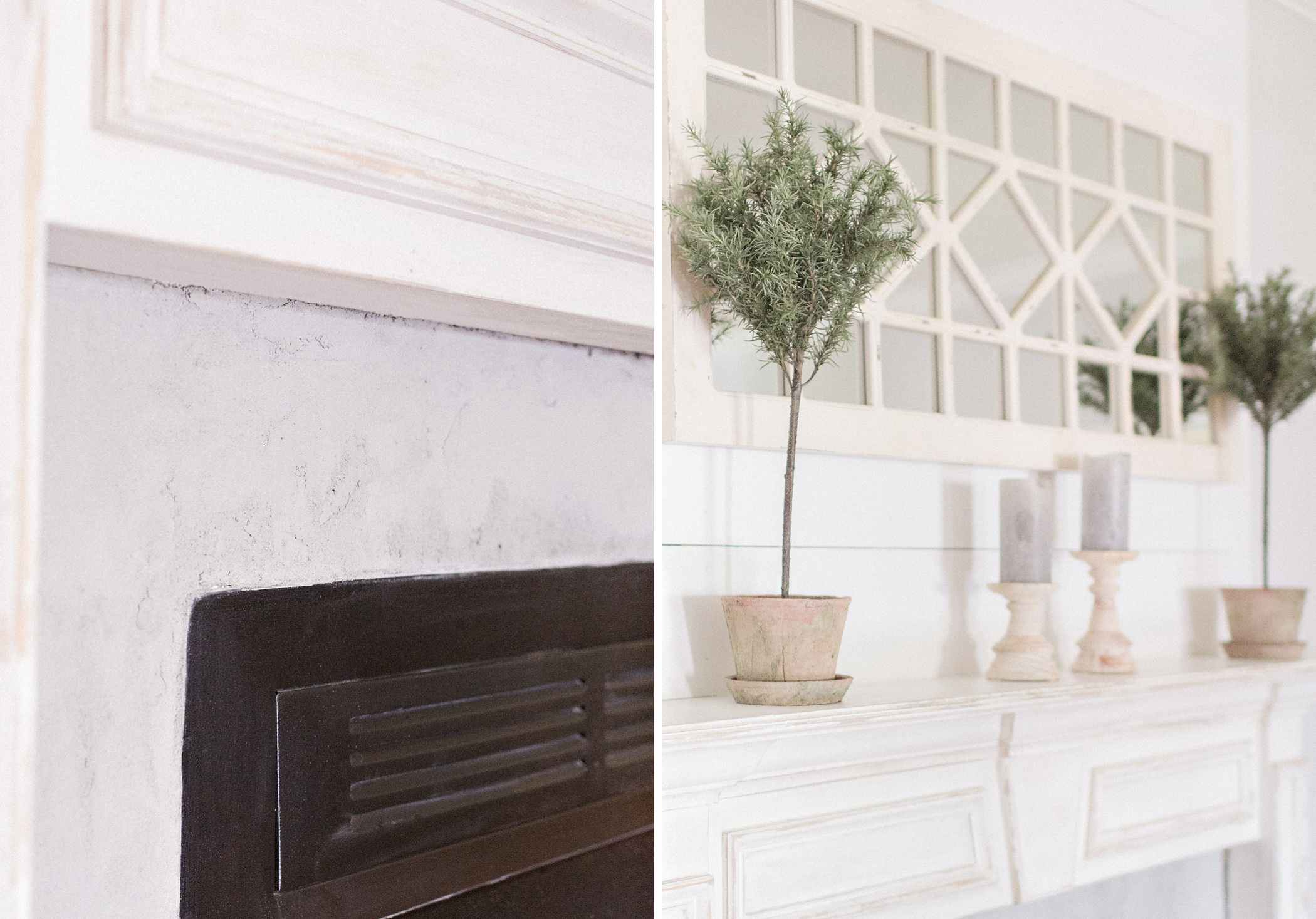 We were thrilled that this house had a fireplace when we purchased it and were really happy that the woodwork was white. And other than that, as you can see from the "before" image below, we pretty much changed everything about the fireplace. I thought maybe the gray marble tile had potential (I mean it was gray and it was marble!), but that grout – which was navy with hints of royal blue in it – had to go, and the man of the house was determined to take it all out. Considering I didn't love the tile anyway, it wasn't a hard sell.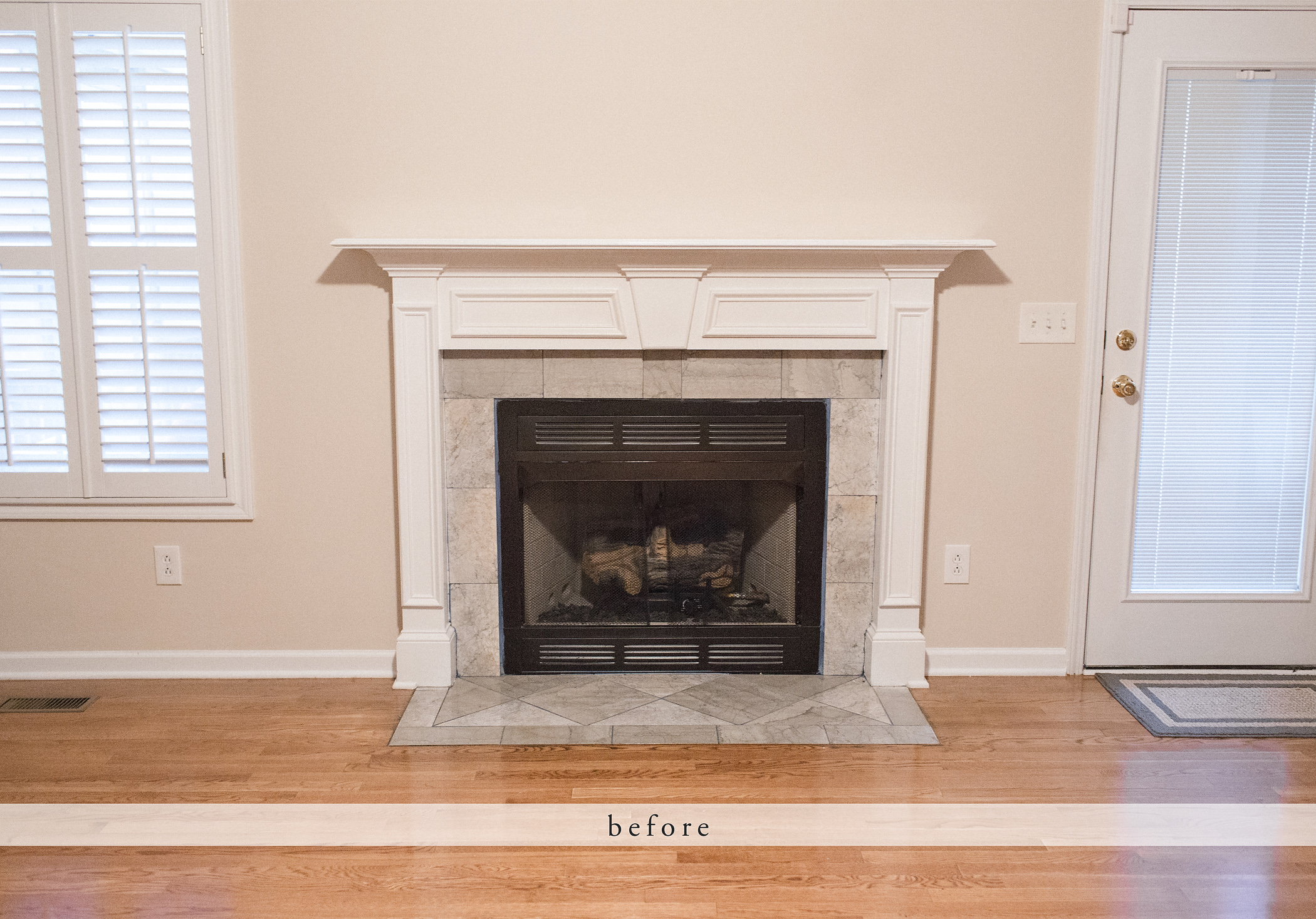 Last winter, we sat in front of the fireplace on a regular basis – in the mornings for coffee and quiet time, and occasionally in the evenings for a glass of mulled wine and conversation. Every day we were aware of how badly we wanted to update the space to feel more like us, and so in early January we hung up a tarp and went to work. The walls were painted, sheetrock replaced with shiplap, the mantle distressed and stained, and the mirror hung. Several weeks ago, we began updating our kitchen and since we were dealing with the mess of tearing out tile, we decided to wrap up the fireplace at the same time.
Finally, six months after I first decided to drag that metal file along every square inch of our mantle, the project is complete. Even though we are hardly making use of the hearth this time of year, this family room focal point is something we appreciate having every single day.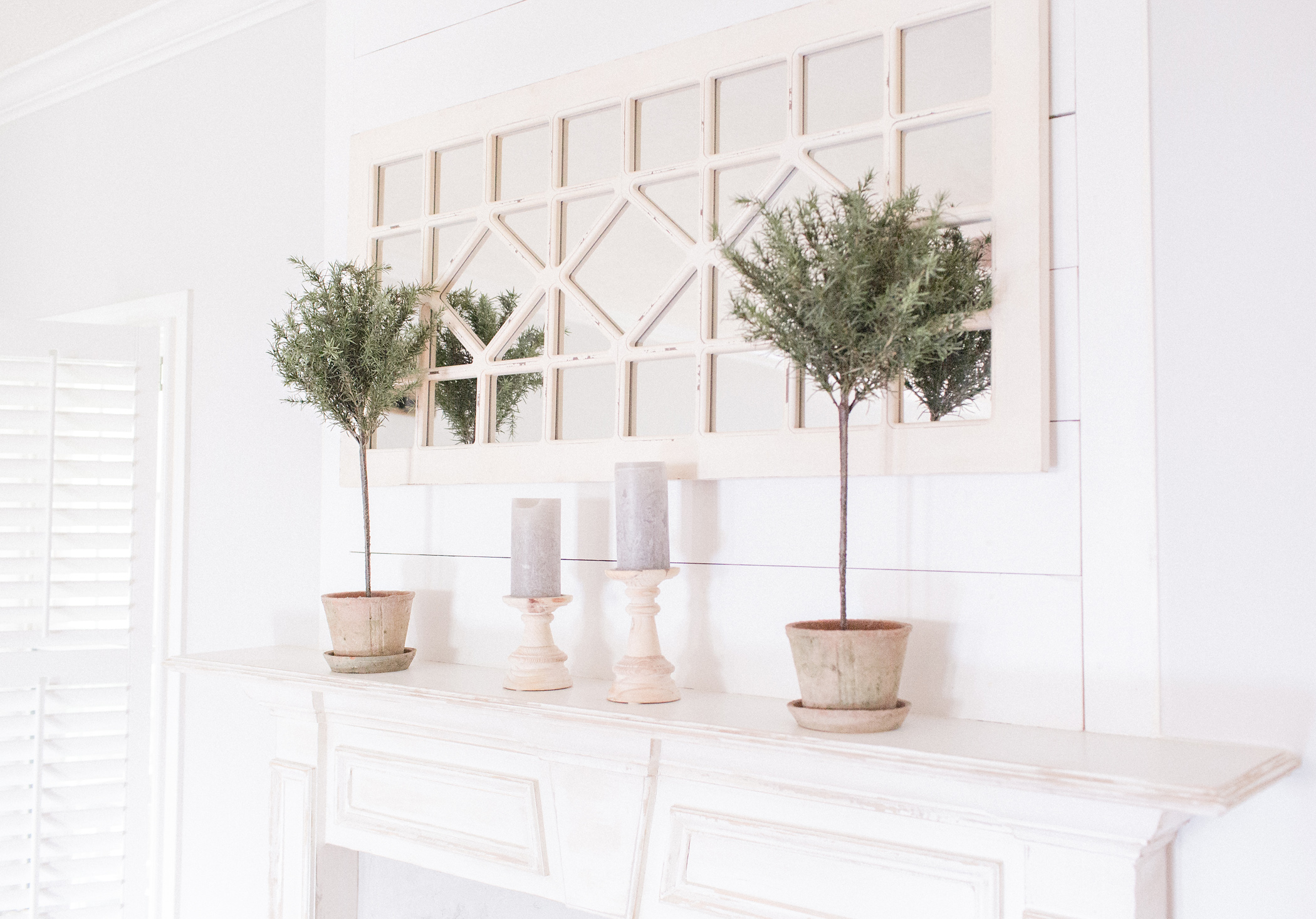 Sources:
Mirror :: Pottery Barn
Candle Pillars :: Pottery Barn
Candlesticks :: BHLDN
Wall Paint :: Sherwin Williams (On the Rocks)
Rosemary Topiaries :: Amazon
N O T E S :
– The topiaries were somewhat of a DIY project that we put together as a cost effective alternative to ones that are purchased already-assembled. I'm considering sharing more about that little project in the future, so if you'd like to see more, please be sure to let us know.
-m