We closed on our house the Monday before Thanksgiving. The next day, a semi-truck filled to the brim with our belongings pulled up in the driveway and unloaded something like 362 items (including boxes, pieces of furniture, etc.) into our new-to-us 1.5 story house. Wednesday brought the realization that unpacking was going to take a lot longer than I thought, and Thursday – our first holiday being away from family – we attempted to let the fact that all of this was actually happening sink in over a turkey breast and Mom's famous sweetcorn.
It worked out to our advantage that a built-in-long-weekend just happened to immediately follow our move across the country, and Friday morning we began making plans for getting settled before even getting out of bed. Overwhelmed with to-dos and unsure of exactly where to start, the decision was made for us as we made our way to the kitchen to discover that our under-mounted sink had fallen. Apparently the Thanksgiving dishes placed in it the night before were too much for the sub-par caulking job to handle. Thankfully, we weren't in love with the sink anyway, so we set out to find a new one that was more in line with the vision we had for our home.
There was just one problem. There is no cutting granite once it is in place, so we are stuck with the existing cutout – which is anything but standard – for as long as we have these counter tops. Incidentally, the granite wouldn't have been our pick, but it is tolerable and in great condition so it hardly seemed reasonable to rip it out within a week of moving in.
I know what you're thinking… #firstworldproblems. And I agree. Granite is a luxury and not something to complain about. And yet there is a desire to put the investment we are making in this house to work for us. Like many home-owners can relate to, we of course have a budget for said objective, as well as the reality that someday we may be hoping to sell. Even so, it isn't so much about increasing the resale value, but about creating a space that feels like us and functions for our needs. It is making this house a home – our home – one that enables us to live the intentional lifestyle we desire, that inspires us as artists, and that we are excited to spend time in.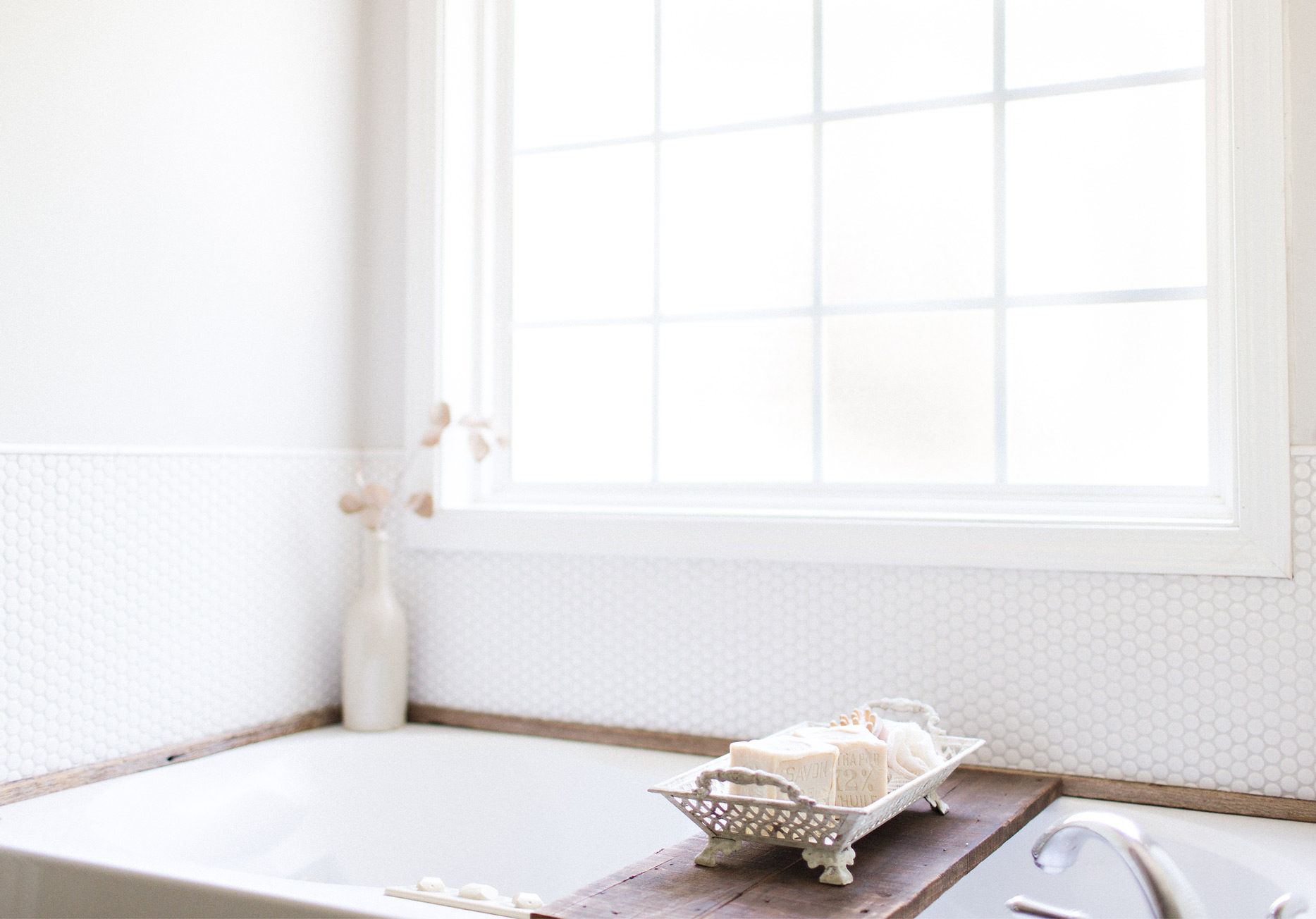 It has been six months since the sink incident, and for the record, we decided to keep the less-than-ideal granite for now. The tile though? We couldn't get that replaced fast enough. The work we are putting in to this house makes it feel more like us every day. Even so, it can be difficult to see anything but how far we have yet to go. We still have a few rooms that are in need of paint, spaces that are lacking furniture, a microwave that hasn't been installed, and closets without proper shelving to completely unpack boxes. And don't even get me started on the garage. Most days those incompletes are a source of shame, so today I'm taking a moment to pause and consider how far we've come.
To date, we have…
Fixed the sink.
Replaced lighting fixtures: all exteriors, kitchen x3 (which also included Kel custom building one), the entry, upstairs nook, and living room
Paint: kitchen, living room, dining room, master bed, master bath, and guest bed
Fireplace: distressed the mantle, replaced drywall with shiplap, replaced surrounding tile
Master Bath: new tile around Jacuzzi and shower, replaced fan and added exterior venting (which wasn't previously in place)
Kitchen: removed ginormous cabinets and back-splash, adding tile and open shelving (a work in progress)
Screened-In Deck: painted the brick, custom-built bar/ledge
Landscaping: removing over-abundance of bushes (a work in progress), built shelf for herb window box
Garden: built raised garden beds
Other: heat pump, upstairs thermostat, and dishwasher (the one appliance that was left by the previous owners) have been replaced
Home-ownership, like anything, is a constant work in progress. It can be easy to get caught up in the perception of how others pace themselves and lose focus on what truly matters to us. The truth is, it isn't so much about achieving something perfect so that we don't have to do anything. It is finding joy in the work it takes along the way. It is appreciating the reward that comes with taking on something new together and the satisfaction of having overcome a challenge as a team. It's an adventure, of sorts, and the lessons that we learn about ourselves and our marriage through making this house a home are all part of the journey.
-m