Every year Mom has plenty of rhubarb in her garden and if we're lucky enough to make it out that direction while it's in season, chances are we'll get a slice or two of delicious, homemade rhubarb pie. Yummy tartness paired with sweet, vanilla ice cream. It's one of my favorite springtime treats!
This year not only did we get a scrumptious slice of pie, we brought some rhubarb home with us so that we could try out a new recipe… Rhubarb Crumble Cake.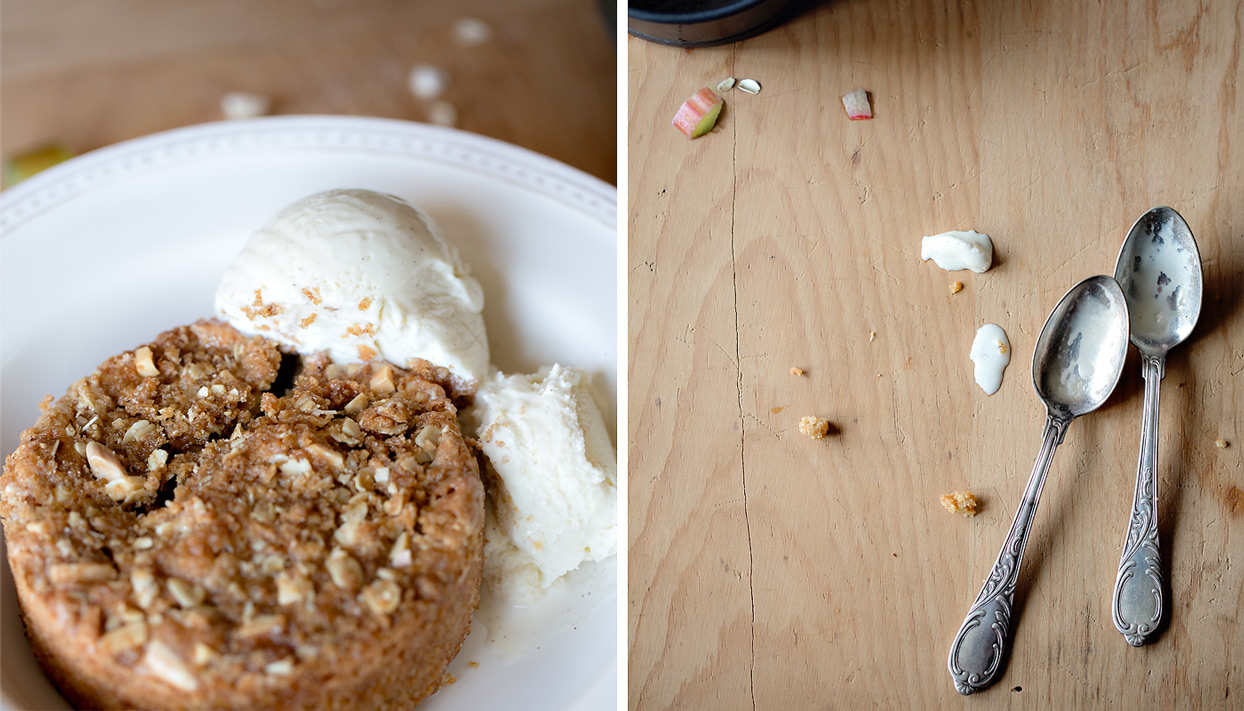 Rhubarb Crumble Cake
ingredients…
from the pantry:
(be sure you have these ingredients on hand before heading to the market)
whole wheat flour (or all-purpose)
old-fashioned oats
brown sugar
sugar
salt
almond extract
unsalted butter
eggs
from the market:
rhubarb
slivered almonds
The Crumble:
Combine 2 tbsp whole wheat flour, 2 tbsp slivered almonds, 2 tbsp rolled oats, 1/4 cup brown sugar, and 1/2 tsp salt in a small bowl. Using a pastry blender or fork, work in 2 tbsp butter until pea-sized lumps are formed. Set aside.
The Cake:
Add 2 large eggs, 1 1/4 cup sugar, 1/2 tsp salt, and 1 tsp almond extract to mixer. Beat on high until the mixture triples in volume (about 5 minutes).
Meanwhile, wash and cut rhubarb into 1/2 inch pieces. You'll need 1 1/2 cups. Fold rhubarb, 6 tbsp melted butter, and 1 1/4 cup whole wheat flour into batter.
Evenly spread thick batter into buttered pan(s). We used four 4-inch springform pans on a baking sheet – which were the perfect size for us to share one, and distribute the rest to our neighbors – but you can also use one 8-inch cake pan.
Sprinkle evenly with crumble.
Bake at 350° for 40-50 minutes (or 60-75 minutes for large cake), until the top is deep gold and a toothpick inserted into the center comes out clean.
Remove the cake from pans when it's completely cool.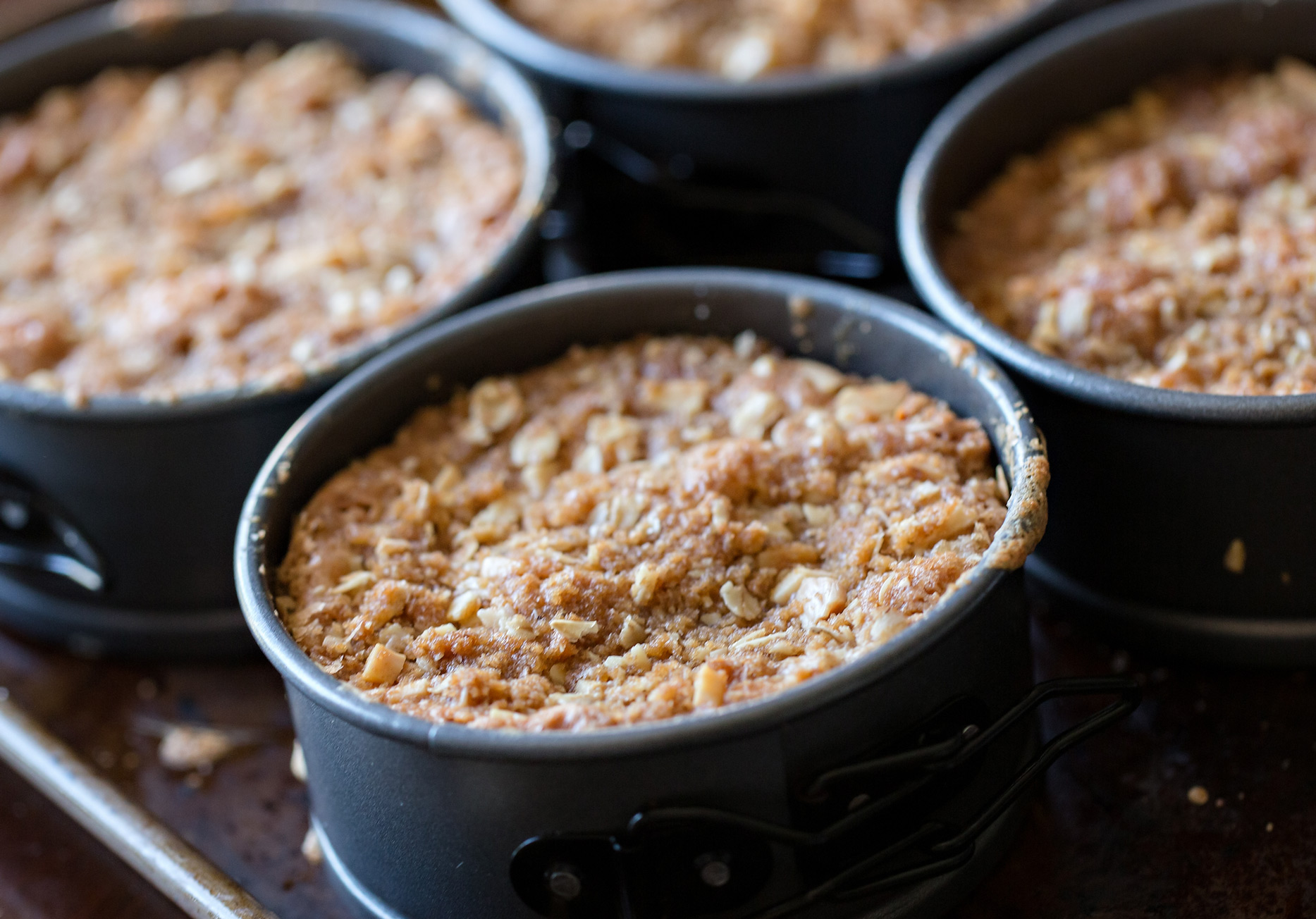 Serve with vanilla bean ice cream. Enjoy!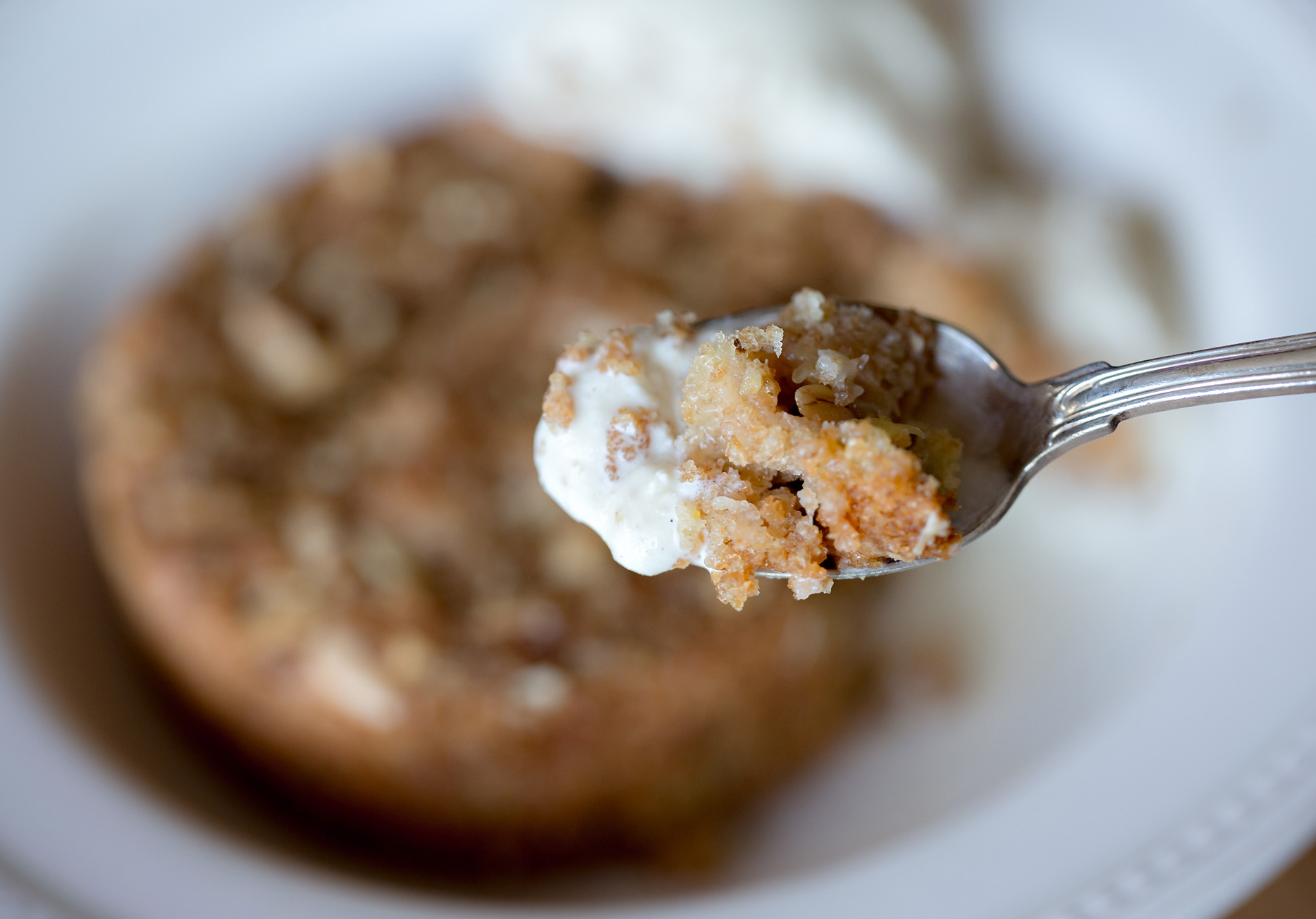 -m