I would find myself opening the cupboard door for no other reason than to look at it. My newly created baker's pantry contained in a small cupboard was delightful and just the sight of it had this satisfying, calming effect.
At the time, creating a baker's pantry had nothing to do with simplifying. It wasn't really even about organization. I had come across a recipe on a blog showcasing an image of a cupboard that I thought was pretty, and the next thing I knew, I was rifling through my own kitchen to gather all of the items related to baking. I added these containers to my Christmas list, found these labels in my favorite colors, and began re-purposing cupboard space immediately.
I do a fair amount of baking, but didn't realize how spread out all of the essentials were until that point. Compiling it all in one space was actually quite simple, and as it turns out, began the process of organizing and simplifying our entire home.
In our Baker's Pantry
essentials:
flour
sugar
confectioner's sugar
brown sugar
baking powder
baking soda
vanilla extract
extras:
oats
vanilla bean
cinnamon
whole nutmeg
yeast
cocoa
baker's chocolate
lemon extract
almond extract
Now that we are settling in to a new space, I have been re-thinking the best way to store/display our baking essentials. We are going to be replacing some of the upper cupboards with open shelving in the next couple months, and I am so excited (and also a little terrified) to see how our vision comes to life. I can't wait to share more about the process of making our kitchen a place we enjoy being! Until then, and because I've learned which ingredients we use more of and prefer to have larger storage for since initially assigning containers, I've been making a few adjustments and additions to our baker's pantry as necessary. Thankfully I've found everything that we need is still available (sources listed below).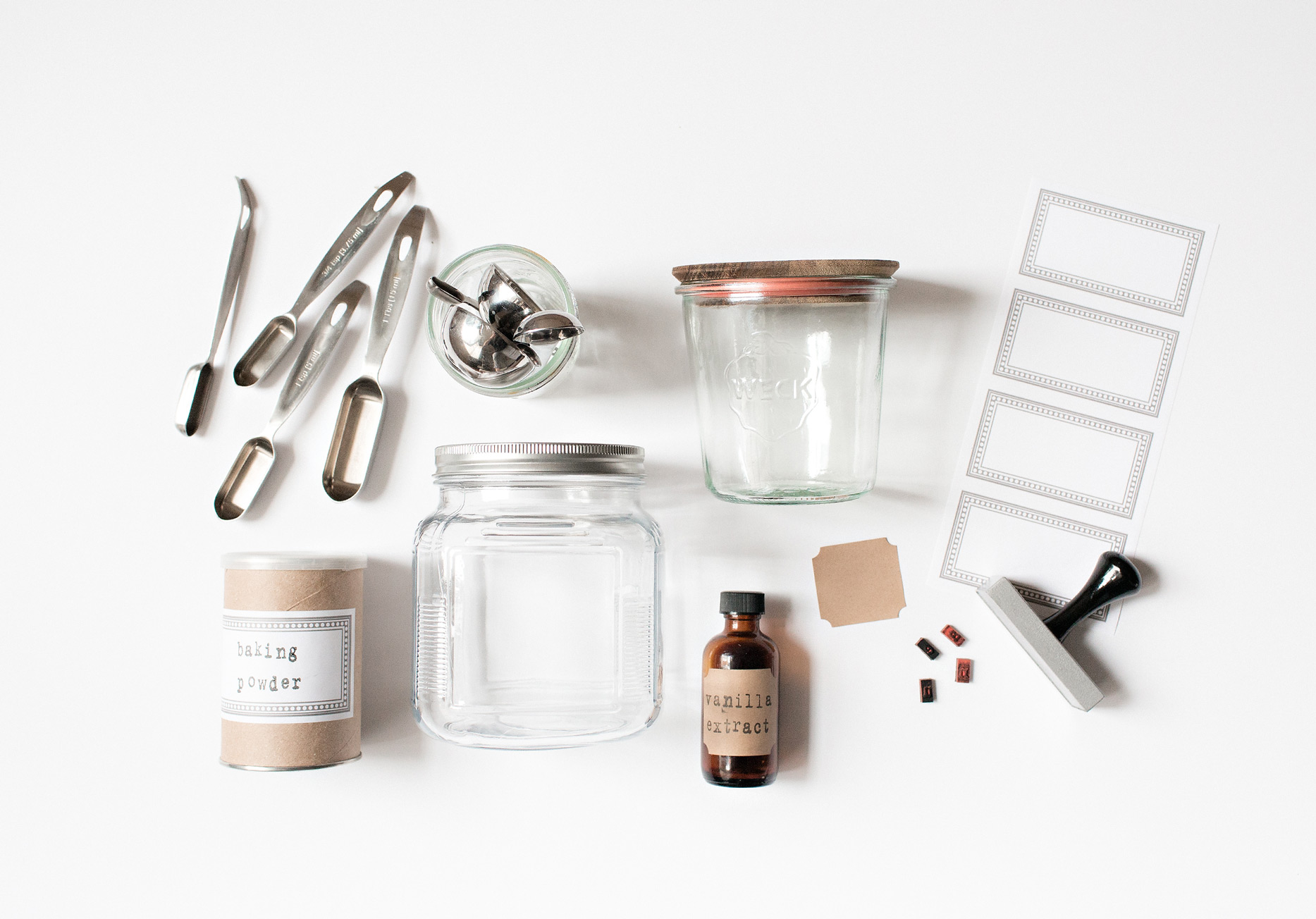 Sources:
Square Jars* :: Target
Round Jars* :: Weck
Weck Jar Wooden Tops :: Terrain
Slate Dots Labels :: Paper Source
Kraft Labels :: Staples
Alphabet Stamps :: my personal supply stash
* available in various sizes and/or through multiple retailers
Also be sure to check out:
The Container Store

Additional Notes:
I have found that in some instances the original packaging works great with just a few minor adjustments (such as with the vanilla extract and baking powder shown above). Removing the label and adding my own ensures consistency, and then I just re-fill that container until it needs to be cleaned or replaced.
Questions or suggestions you'd like to share? Leave them in the comments below.
Coming up, in the next Curating the Common:
My Colorful Past

-m